Sports / Cricket
TelOne donates bins, trees to Zimbabwe Cricket
24 Sep 2023 at 21:39hrs |
Views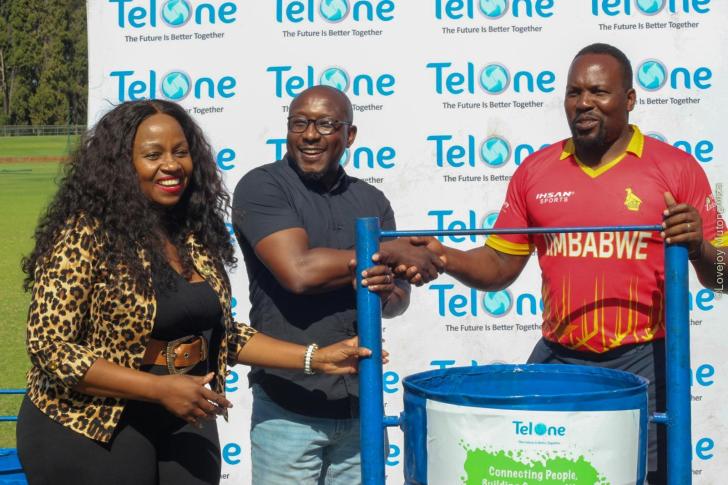 Telecommunications giant, TelOne has donated litter bins and trees to Zimbabwe Cricket (ZC) as part of the company's corporate social responsibility and efforts to promote sustainable environment management.
The company's Acting Chief Operations Officer, Joseph Machiva, said the donation had been made under their "Provide A Bin" programme which was launched in 2016.
"As TelOne we have defined environmental management as a key pillar for our corporate social investment programming. As such we have since 2016 been involved in several initiatives aimed at contributing to sustainable environmental management. Chief among these initiatives has been the "Provide-A-Bin" programme whose main aim is to support clean cities through litter receptacles.
"This programme has so far taken us to more than 20 cities, towns and district centres where we have donated over 6 000 litter bins collectively.
"Today we are pleased to announce that having donated bins to most major centres around Zimbabwe, we are happy to be widening the scope through donating 100 bins to Zimbabwe Cricket for installation at the 10 fields that they have countrywide.
"We know that many clients and friends of TelOne love and follow cricket hence we have come to connect with them through supporting their favourite sport. This gesture is also informed by the pronouncement by His Excellency President E. D. Mnangagwa on cleaning our environments, whereupon we have made a considered decision to go beyond just the monthly clean-up days to sustain clean environments through litter bin donations such as this one," he said.
Machiva said the organisation had also been running a tree planting programme since 2017 under the same environment pillar and Cooperate social responsibility programme.
He said they planned to expand the programme in the province to plant at least 100 000 trees by year end.
"May I also take this opportunity to announce that under the same Environment Pillar of our CSI programme, we have managed to expand our initiatives by introducing a tree planting programme which has been running throughout the country since 2017.
Through a partnership with Zimbabwe Prisons and Correctional Services and Forestry Commission, We are expecting to have at least 100,000 seedlings ready for planting as the 2023 tree planting season opens. These are being propagated at Chikurubi Farm Prison Nursery where inmates are managing the project and also getting professional training in nursery management through funding from TelOne.
"Indeed, our Corporate Social Investment theme "Connecting People, Building Communities" speaks to who we are- at TelOne we are not just about providing communication solutions but also about connecting people, building the community and establishing lasting relationships through our services and social investment like we have just done today. We continue to call on all of you to support TelOne through taking up our services so that we are able to Continue investing in the Community," he said.
Speaking at the same occasion, Zimbabwe Cricket Director, Hamilton Masakadza expressed his gratitude to TelOne and said the donation will go a long way in addressing issues of sanitation and environmental responsible in the organization's properties.
"As Zimbabwe Cricket, we are very excited about this gesture from TelOne and this is the start of great partnership with TelOne ahead. It also help us to spread a very responsible message about looking after our environment and we will do our part.
This is the start of bigger partnerships which will go beyond this and TelOne have come forward as one of the cooperates which recognize what we are also doing at Zimbabwe Cricket and the following we have been doing.
From Zimbabwe Cricket, thank you very much TelOne we look forward in working with you," he said.
Source - Byo24News